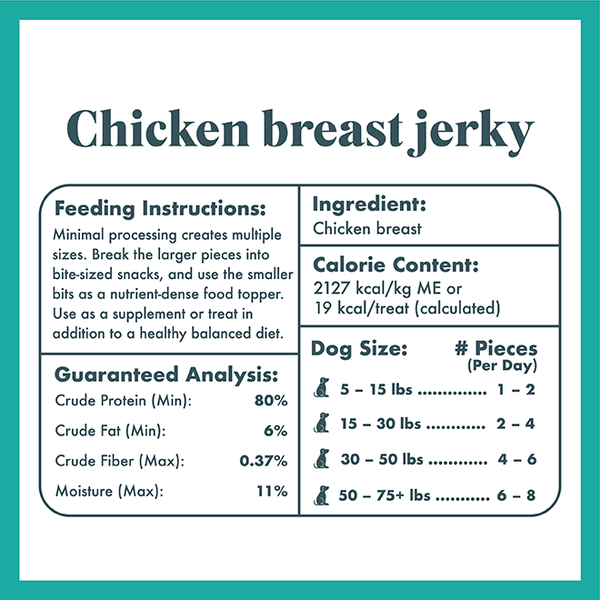 One single ingredient: free-range, chicken breast
Thinly sliced and low-temperature DEHYDRATED RAW into a crispy and delicious jerky.
Naturally rich in lean Protein.
*Contains 1 lb of fresh chicken breast, prior to dehydration
Love at first bite
Love getting a new treat for my dog, he was so happy to try these!
My dog feels like a king
King Lou products are the best so far my dog had. He enjoys every single product so far and I have never seen such happiness or satisfaction on his face after eating. He is more energetic and active than ever before. It also gives me peace of mind looking at the ingredients which are simpler, natural and nutritious. I would always recommend all my friends to treat their pups like King.
Chicken breast jerky
My dog Prince is a very picky eater but he loves the chicken breast jerky and it makes me feel good to know that they are 100% no other ingredients in them just a healthy snack :)
All 4 of my fur babies love these! I use them for treats and training
DOG LOVES IT ALL!!
My 4 y/o dog has tried pretty much eveything King Lou has to offer. Whether it's the duck/chicken feet, hearts, jerky or liver, she loves each one. It's pretty amazing how she recognizes the box when it's delivered; it must be brand recognition with the crown and all 😉. KL treats are a healthy addition to my dog's daily diet. BTW, took my girl in for anesthesia-free dental cleaning last weekend. Hygienist said teeth and gums looked clean and healthy. Shout out to KL -- treats are definitely a contributing factor to my dog's overall healthy dental routine.