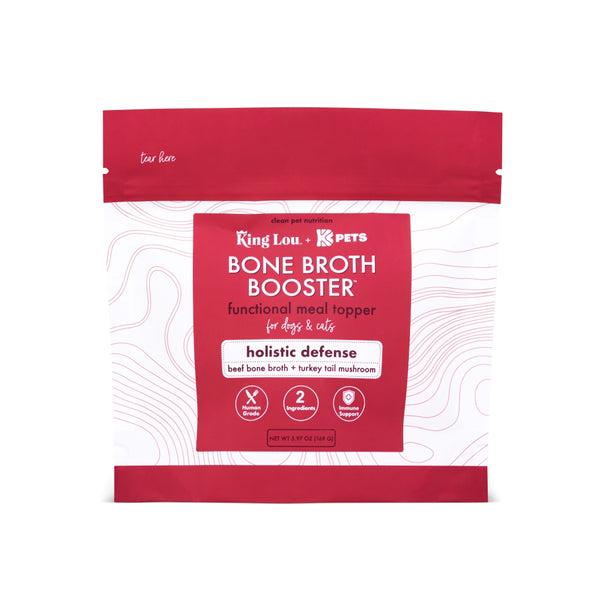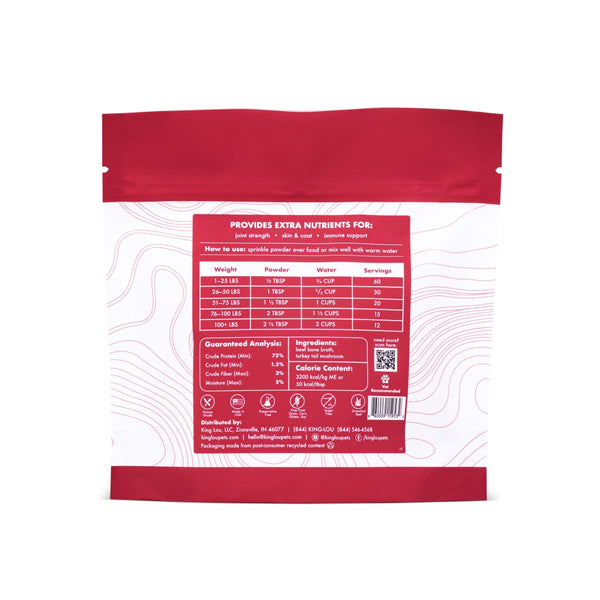 bone broth booster - holistic defense + BK Pets
Order Now, Ships early December
Created in collaboration with Kenzie & Bryce of @thebkpets

A tasty and nutritious way to enhance your pet's everyday meal.  Made with just two simple ingredients: grass-fed bone broth & organic turkey tail mushroom
Sprinkle over or mix into wet or dry food, or mix with water to create a wholesome, nourishing drink
Naturally rich in Collagen & Glucosamine to support healthy skin and joints, and Beta-Glucans to support healthy immunity
*Contains 60 servings per 25 lbs/pet
How do you use it?
Sprinkle Bone Broth Booster over wet or dry food, or mix with water to create a wholesome, nourishing drink or to re-hydrate dry food
Does it need to be refrigerated?
No. We recommend resealing the pouch and storing in a cool, dry place.
How many servings per pouch?
Each pouch contains 60 servings per 25 lb/pet
How much of each ingredient per serving?
Each serving contains 1820 mg of bone broth and 1000 mg of turkey tail mushroom
What if my pet doesn't like it?
We're so confident that your pet will love our products, we have a 100% money-back guarantee.
What are the benefits of bone broth?
Bone broth is a rich source of collagen and glucosamine, which protect and support the joints, as well as promote healthy skin & coat. Additionally, its a natural source of nutrients and minerals that support healthy digestion, immunity, and gut health.
Where is your bone broth sourced?
Our Bone Broth is sourced from European grass-fed, hormone-free cows and manufactured in Sweden
How is your bone broth made?
Our bone broth starts as 100% natural fresh, meaty bones from grass-fed cows. The nutrients are extracted via heat with zero additives, resulting in a fine powder with a naturally beefy flavor.
What are the benefits of turkey tail mushroom?
Turkey tail mushrooms are among the most widely researched species of functional mushrooms. They are naturally rich in polysaccharides and beta-glucans, the nutrients that help to strengthen and activate your pup's natural immune defense.
Where are your mushrooms sourced?
We use the highest quality, 100% organic, raw-food turkey tail mushrooms. They are grown and processed in southern California.
How are your mushrooms produced?
Our mushrooms are grown in a precisely controlled environment before being harvested and low-temperature dehydrated whole, to maintain the natural bioactive compounds.
King Lou
Annie loves her bone broth and beef heart Jerkey! Will be purchasing from here from now on!
Didn't disappoint.
I've been shopping for a safe & nutritious broth to use on my dog's food since I adopted him 10 months ago. This bone broth is a HIT! Thank you! I use it in different ratios than suggested, but no matter it is GREAT, and my Logan (6 y.o. greedy but picky pit mix) is always happy to get it. Also, the beef heart jerky is his favorite treat. I am going to test drive the air dried minnows next. ;)
Bone Broth Booster
Love this! My dog downs his food once I started adding this topper. And I feel comforted by the amazing health benefits it provides my dog! I purchased this because of BK Pets, and I don't regret this purchase at all
Doggo approves!
My dog loves this! I sprinkle on top of his food and mix with water and this is the first thing he licks up. I've noticed his appetite has gotten more better and he looks forward to meal time, definitely recommend!