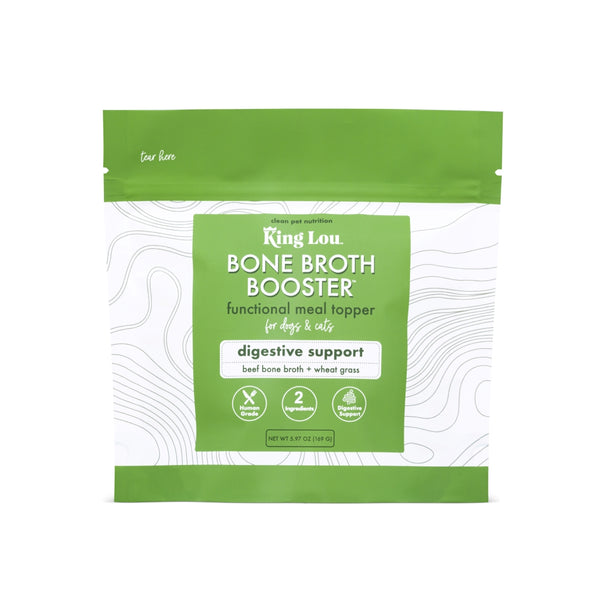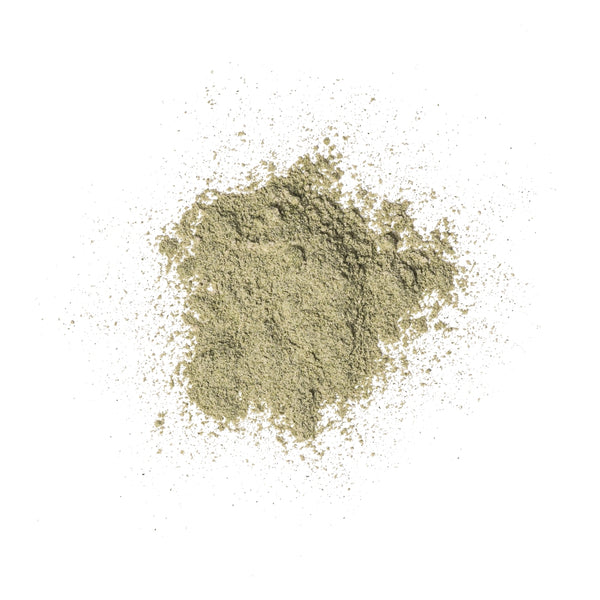 bone broth booster - digestive support
A tasty and nutritious way to enhance your pet's everyday meal.  Made with just two simple ingredients: grass-fed bone broth & organic wheatgrass.
Sprinkle over or mix into wet or dry food, or mix with water to create a wholesome, nourishing drink
Naturally rich in Collagen & Glucosamine to support healthy skin and joints, and Prebiotic Fiber to support healthy digestion
*Contains 60 servings per 25 lbs/pet
How do you use it?
Sprinkle Bone Broth Booster over wet or dry food, or mix with water to create a wholesome, nourishing drink or to re-hydrate dry food
Does it need to be refrigerated?
No. We recommend resealing the pouch and storing in a cool, dry place.
How many servings per pouch?
Each pouch contains 60 servings per 25 lb/pet
How much of each ingredient per serving?
Each serving contains 1820 mg of bone broth and 1000 mg of wheat grass
What if my pet doesn't like it?
We're so confident that your pet will love our products, we have a 100% money-back guarantee.
What are the benefits of bone broth?
Bone broth is a rich source of collagen and glucosamine, which protect and support the joints, as well as promote healthy skin & coat. Additionally, its a natural source of nutrients and minerals that support healthy digestion, immunity, and gut health.
Where is your bone broth sourced?
Our Bone Broth is sourced from European grass-fed, hormone-free cows and manufactured in Sweden
How is your bone broth made?
Our bone broth starts as 100% natural fresh, meaty bones from grass-fed cows. The nutrients are extracted via heat with zero additives, resulting in a fine powder with a naturally beefy flavor.
What are the benefits of wheatgrass?
Wheatgrass is a natural source of enzymes and prebiotic fiber that help to support healthy digestion, as well as antioxidants that can help to protect against disease.
Where is your wheatgrass sourced?
We use the highest quality, 100% organic wheatgrass from family farms in Kansas.
How is your wheatgrass made?
Our wheatgrass is grown outdoors through cold winters and harvested at peak nutritional density. It's then low-temperature dehydrated ground into a fine powder to maintain maximum bioavailability.
Crunch crunch crunch!!
Our boy LOVES the whole duck and chicken feet! Will drool the entire time from bag to food dish!
great products
I give all 3 toppers throughout the week to help support digestion, joints, and overall wellness. I highly recommend!
Duck feet
My sensitive stomach lab has loved these treats. No digestive issues and he's able to get the joint support he needs. I do wish more came in a pack though, but we are otherwise satisfied.
My Jack Russel absolutely loves his chicken feet! I give him one every day as a snack or part of his meal. I love that it keeps him busy while I cook or clean and as a bonus it cleans his teeth! I recently bought 2 bags for my mom's dog.
Excellent
I really satisfy of your products and the punctuality of the delivery service.