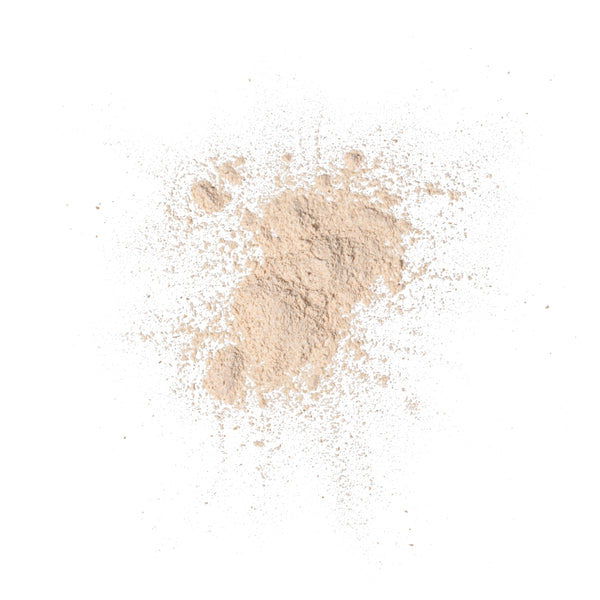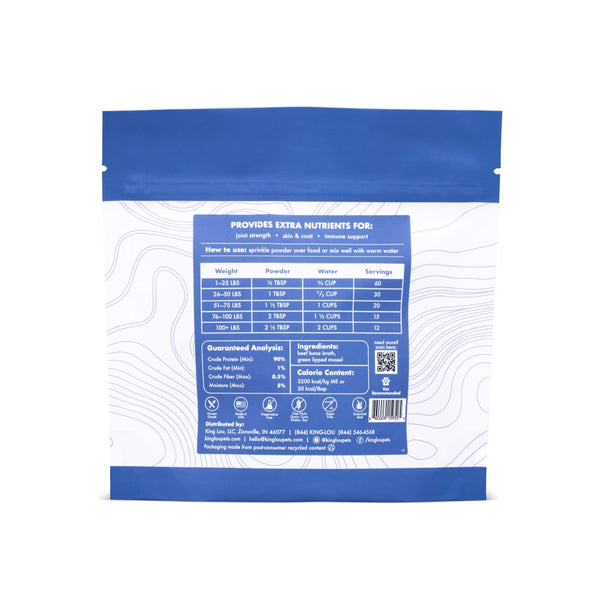 bone broth booster - joint support
A tasty and nutritious way to enhance your pet's everyday meal.  Made with just two simple ingredients: grass-fed bone broth & green lipped mussel.
Sprinkle over or mix into wet or dry food, or mix with water to create a wholesome, nourishing drink
Naturally rich in Collagen, Glucosamine, and Omega-3's to support healthy skin and joints
*Contains 60 servings per 25 lbs/pet
How do you use it?
Sprinkle Bone Broth Booster over wet or dry food, or mix with water to create a wholesome, nourishing drink or to re-hydrate dry food
Does it need to be refrigerated?
No. We recommend resealing the pouch and storing in a cool, dry place.
How many servings per pouch?
Each pouch contains 60 servings per 25 lb/pet
How much of each ingredient per serving?
Each serving contains 2520 mg of bone broth, and 300 mg of green lipped mussel.
What if my pet doesn't like it?
We're so confident that your pet will love our products, we have a 100% money-back guarantee.
What are the benefits of bone broth?
Bone broth is a rich source of collagen and glucosamine, which protect and support the joints, as well as promote healthy skin & coat. Additionally, its a natural source of nutrients and minerals that support healthy digestion, immunity, and gut health.
Where is your bone broth sourced?
Our Bone Broth is sourced from European grass-fed, hormone-free cows and manufactured in Sweden
How is your bone broth made?
Our bone broth starts as 100% natural fresh, meaty bones from grass-fed cows. The nutrients are extracted via heat with zero additives, resulting in a fine powder with a naturally beefy flavor.
What are the benefits of green lipped mussel?
Green lipped mussels are naturally rich in omega-3 fatty acids that help to reduce pain & inflammation. They also contain several key nutrients that support healthy bones and joints.
Where are your green lipped mussels sourced?
Our green lipped mussels are from the only place they grow naturally in the entire world: the clean, coastal waters of New Zealand.
How is your green lipped mussel produced?
Our green lipped mussels are removed from the shell, low-temperature dehydrated, and then ground into a fine powder to maintain maximum nutrient density.
Great treat for chewers!
My one year old pup loves the turkey necks and they keep her occupied for a good few minutes! Bonus, her teeth are sparkly white.
So great
So happy to have found king Lou
We love everything KIng Lou, especially the bone broth!
Pups like the broth
I had been using a more expensive broth. They seemed to go for this quicker.
Bone broth for cats and dogs