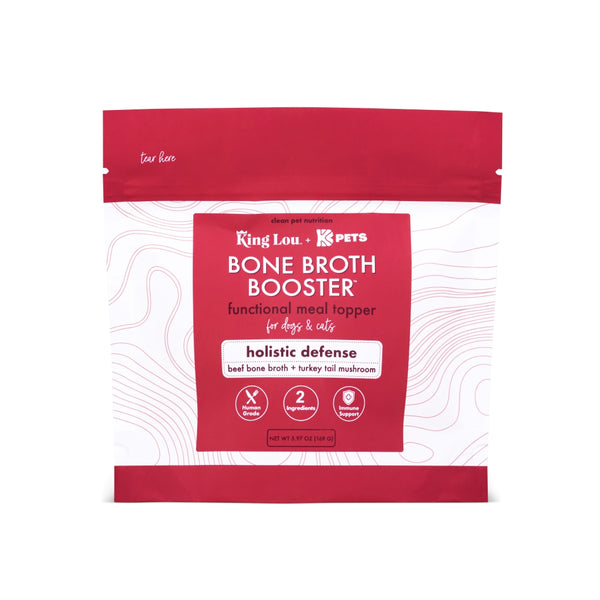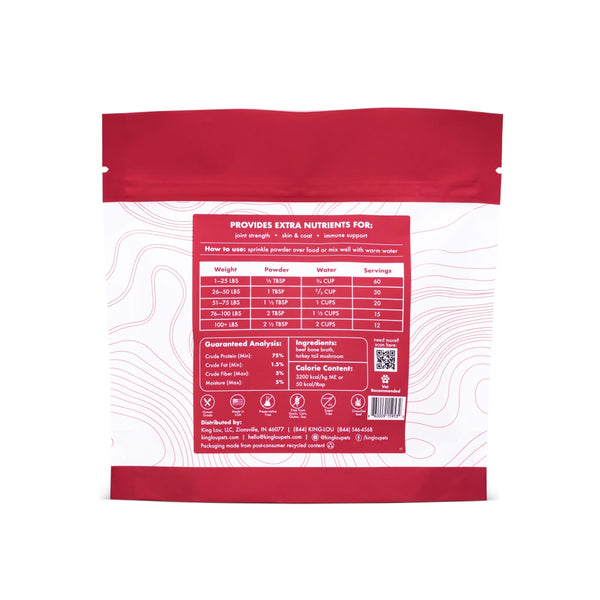 bone broth booster - holistic defense + BK Pets
Created in collaboration with Kenzie & Bryce of @thebkpets

A tasty and nutritious way to enhance your pet's everyday meal.  Made with just two simple ingredients: grass-fed bone broth & organic turkey tail mushroom
Sprinkle over or mix into wet or dry food, or mix with water to create a wholesome, nourishing drink
Naturally rich in Collagen & Glucosamine to support healthy skin and joints, and Beta-Glucans to support healthy immunity
*Contains 60 servings per 25 lbs/pet
How do you use it?
Sprinkle Bone Broth Booster over wet or dry food, or mix with water to create a wholesome, nourishing drink or to re-hydrate dry food
Does it need to be refrigerated?
No. We recommend resealing the pouch and storing in a cool, dry place.
How many servings per pouch?
Each pouch contains 60 servings per 25 lb/pet
How much of each ingredient per serving?
Each serving contains 1820 mg of bone broth and 1000 mg of turkey tail mushroom
What if my pet doesn't like it?
We're so confident that your pet will love our products, we have a 100% money-back guarantee.
What are the benefits of bone broth?
Bone broth is a rich source of collagen and glucosamine, which protect and support the joints, as well as promote healthy skin & coat. Additionally, its a natural source of nutrients and minerals that support healthy digestion, immunity, and gut health.
Where is your bone broth sourced?
Our Bone Broth is sourced from European grass-fed, hormone-free cows and manufactured in Sweden
How is your bone broth made?
Our bone broth starts as 100% natural fresh, meaty bones from grass-fed cows. The nutrients are extracted via heat with zero additives, resulting in a fine powder with a naturally beefy flavor.
What are the benefits of turkey tail mushroom?
Turkey tail mushrooms are among the most widely researched species of functional mushrooms. They are naturally rich in polysaccharides and beta-glucans, the nutrients that help to strengthen and activate your pup's natural immune defense.
Where are your mushrooms sourced?
We use the highest quality, 100% organic, raw-food turkey tail mushrooms. They are grown and processed in southern California.
How are your mushrooms produced?
Our mushrooms are grown in a precisely controlled environment before being harvested and low-temperature dehydrated whole, to maintain the natural bioactive compounds.
The best treats!
My dog loves these treats. They are the best quality and a good value compared to the ones you find in pet stores.
Bone broth heaven
Night and day difference with our crew after using this broth...
Obsessed dogs
My dogs have been obsessed with this since I've gotten it! 10/10
Great whole food brand
Loving these products! I was looking for an all natural bone broth and alternative to greenies. My dog loves the chicken feet. They are dehydrated so they are crunchy. Doesn't get stuck in her mouth. My dog loves the bone broth, glad they have one for joints. This is definitely be my go to product!
Mom bought me both the ones with the shrooms and mussels, I love them both. I lick my slow feeder clean! :-)