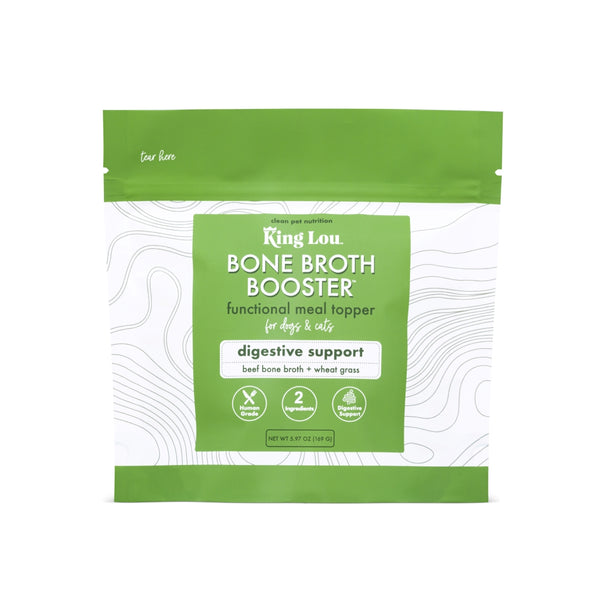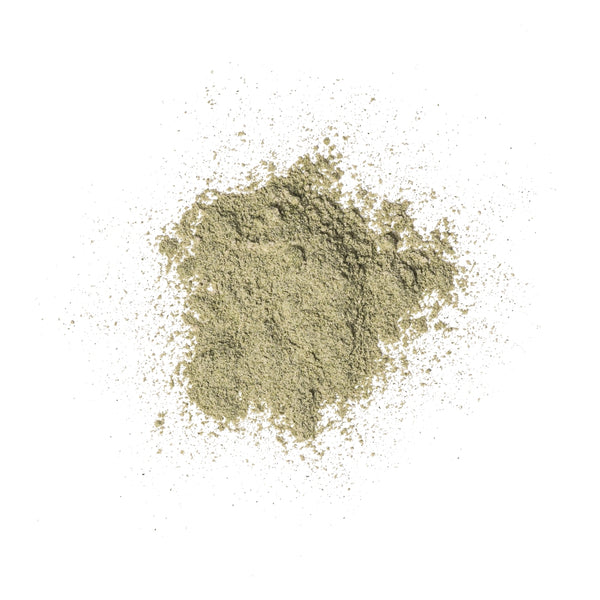 bone broth booster - digestive support
A tasty and nutritious way to enhance your pet's everyday meal.  Made with just two simple ingredients: grass-fed bone broth & organic wheatgrass.
Sprinkle over or mix into wet or dry food, or mix with water to create a wholesome, nourishing drink
Naturally rich in Collagen & Glucosamine to support healthy skin and joints, and Prebiotic Fiber to support healthy digestion
*Contains 60 servings per 25 lbs/pet
How do you use it?
Sprinkle Bone Broth Booster over wet or dry food, or mix with water to create a wholesome, nourishing drink or to re-hydrate dry food
Does it need to be refrigerated?
No. We recommend resealing the pouch and storing in a cool, dry place.
How many servings per pouch?
Each pouch contains 60 servings per 25 lb/pet
How much of each ingredient per serving?
Each serving contains 1820 mg of bone broth and 1000 mg of wheat grass
What if my pet doesn't like it?
We're so confident that your pet will love our products, we have a 100% money-back guarantee.
What are the benefits of bone broth?
Bone broth is a rich source of collagen and glucosamine, which protect and support the joints, as well as promote healthy skin & coat. Additionally, its a natural source of nutrients and minerals that support healthy digestion, immunity, and gut health.
Where is your bone broth sourced?
Our Bone Broth is sourced from European grass-fed, hormone-free cows and manufactured in Sweden
How is your bone broth made?
Our bone broth starts as 100% natural fresh, meaty bones from grass-fed cows. The nutrients are extracted via heat with zero additives, resulting in a fine powder with a naturally beefy flavor.
What are the benefits of wheatgrass?
Wheatgrass is a natural source of enzymes and prebiotic fiber that help to support healthy digestion, as well as antioxidants that can help to protect against disease.
Where is your wheatgrass sourced?
We use the highest quality, 100% organic wheatgrass from family farms in Kansas.
How is your wheatgrass made?
Our wheatgrass is grown outdoors through cold winters and harvested at peak nutritional density. It's then low-temperature dehydrated ground into a fine powder to maintain maximum bioavailability.
Our Dogs Love This!
Our Boston and King Charles lap up this food topping quickly. They love it!
Amazing!
The bone broth has done wonders for our girls! Their digestive system is so much better since starting the bone broth. No more mushy poops!
Bone Broth and Chicken Feet for the WIn
My dogs absolutely love King Lou's chicken feet as a treat and I love it for its dental benefits. I am also a huge fan of their bone broth boosters. Currently using their Digestive Support bone broth and my dogs' gut health really seems to be doing quite well. Highly recommend their bone broth booster and chicken feet for healthy supplements to your dogs. I feel like these items help to extend the life of my pets.
Bone broth-holistic
Boy does my boy Tucker LOVE his bone broth! Makes a wonderful gravy to his dehydrated food. He cleans the dish every time. I love that it has turkey-tail mushrooms and it's helping with his cancer. He's been feeling better and more playful lately. The immune support is the best but I also use the digestive aid just for a boost to his system. Very happy with the all the products I have purchased so far. Tucker's favorite is still the duck feet! His teeth look great and he's 9 years old. Just another bonus!
My boy just won't eat these:(
My boy loves the chicken feet and bone broths, but he just won't eat these whole minnows. I tried cutting them up into small pieces and mix it in his food but then he won't eat his food so I wasted food and money on the minnows. Might just stick to the chicken feet. I'd hate to waste money on something he wouldn't eat.