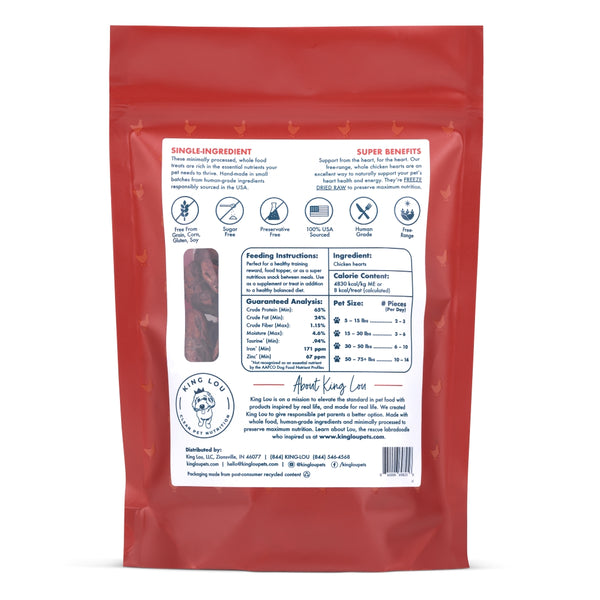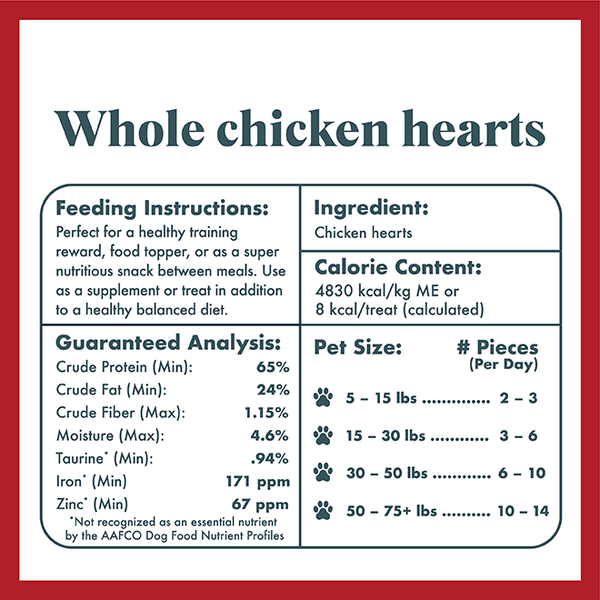 One single ingredient: free-range, whole chicken hearts
FREEZE-DRIED RAW into a soft and chewy snack that both dogs and cats love.
Naturally rich in Taurine, Zinc, and Iron to support heart health. 
*Contains 50-60 whole hearts per pouch
Great products!
Great products that our dogs are crazy about! I personally love the simple and healthy ingredients too! We feel safe giving these products to our two dogs
they look high quality!
unfortunately my cat didn't eat them :(
My pup loves all of your treats, his favorite is the duck/chicken feet.
All of the treats!
King Lou treats were suggested to me via Shopify when I was checking out from another vendor, and because my puppy is the highlight of my life, I impulsively said yes. I started with the chicken and beef hearts, and my dog loves them! I have since then bought some duck jerky from King Lou and they will now be my go to treat brand. The products aren't greasy and you can tell they're good quality. Definitely will be buying more (and more) in the future!
Best healthy treats
I am so happy to have found your company, just to know I am feeding my dog healthy treats. Love,Love your products.